Defense Export Strategies to Civil War Countries in Latin America
Focusing on Colombia and Peru
Keywords:
Defense Exports, Colombia, Peru, SWOT Analysis, Offset Trade, G2G
Abstract
This study aims to obtain key strategies by analyzing Matrix based on the SWOT analysis of internal and external environmental factors of Colombia and Peru that are the civil war countries in Latin America. This study presented a strategy for expanding defense exports to Colombia and Peru, which is emerging as a new defense export market. It is because there will be a demand for introducing a new weapon system as these countries in Central and South America are still experiencing civil war. In fact, it is somewhat difficult to develop a new export market, so it was investigated that Colombia and Peru were also found as the countries which have exported defense products to South Korea. In order to analyze the expansion strategy of defense exports to Colombia and Peru, the status of the economic and defense industries of the two countries was checked. Based on internal and external environmental factors, four factors were analyzed: strength (S), weakness (W), opportunity (O), and threat (T). Matrix analysis was performed through these four factors, and the key strategy was derived as follows. Firstly, in order to strengthen the sales and support system between governments, it will be necessary to perform indirect offset, use the sales system between governments, actively participate in enterprise-based business and pursue government's active defense policy. Secondly, in order to improve and develop the weapon system, it is necessary to increase the demand for additional follow-up support, to reinforce and improve the new weapon system, to promote the transfer of old and surplus weapon systems, and to prepare for an increase in the additional requirements of the weapons purchaser countries. Thirdly, it will be necessary to establish a foothold to advance into the Latin American market and strengthen the organization dedicated to exporting defense products in the local region and South Korea, to further improve international trade, and actively promote domestic weapons systems in order to establish a quick information infrastructure in a local area and strengthen the dedicated personnel.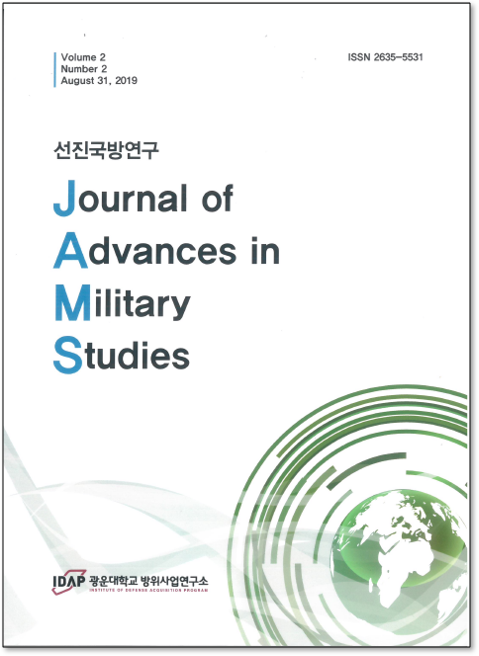 Downloads
How to Cite
Park, K. (2019). Defense Export Strategies to Civil War Countries in Latin America: Focusing on Colombia and Peru. Journal of Advances in Military Studies, 2(2), 51-70. https://doi.org/10.37944/jams.v2i2.49
License

This work is licensed under a Creative Commons Attribution 4.0 International License.

이 저작물은 크리에이티브 커먼즈 저작자표시 4.0 국제 라이선스에 따라 이용할 수 있습니다.