Development plan based on analyzing the actual conditions of Korea's defense base area
Focusing on Gyeongsangnam-do and Changwon
Keywords:
defense industry base area, actual condition survey, region industry innovation cluster, small and medium-sized defense companies
Abstract
This study aims to derive a customized development plan for the defense base area centered on the Gyeongsangnam-do and Changwon special cities, which are representative bases in the domestic defense industry. The areas account for more than 40% of the defense sales and the number of employees based on domestic defense companies. Their status and importance increased as they were selected as the first defense innovation cluster pilot project in Korea by the Defense Acquisition Program Administration. For the research method, management performance (sales, R&D investment, number of employees, exports) and difficulties factors were analyzed by targeting 490 defense companies located in Gyeongnam from 2018 to 2021. Based on the results, considerable strengths and opportunity factors were derived in the fields of industry composition, defense supply chain, parts localization, workforce training, and cooperation networks, and the creation of a favorable management environment for defense SMEs was suggested. In the future, to facilitate the localization of defense materials and parts through the defense innovation cluster project, and to establish an effective mid- to long-term defense industry promotion strategy, an accurate analysis of the current situation and competitiveness of defense companies in the Gyeongnam region is required.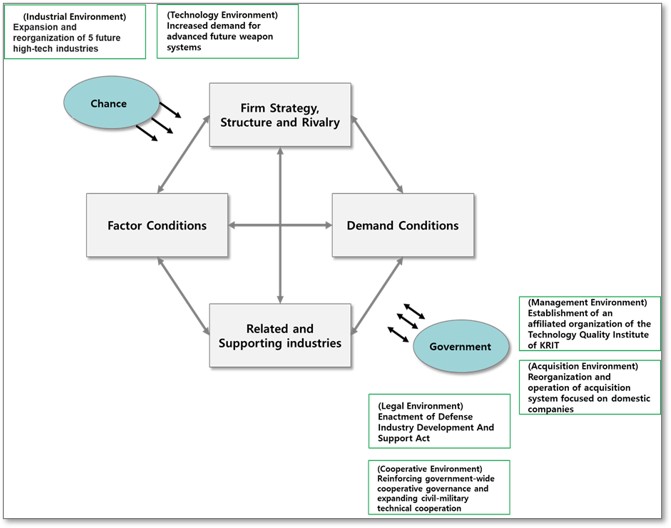 Downloads
How to Cite
Jang, S., & Choi, G. (2022). Development plan based on analyzing the actual conditions of Korea's defense base area: Focusing on Gyeongsangnam-do and Changwon. Journal of Advances in Military Studies, 5(3), 67-90. https://doi.org/10.37944/jams.v5i3.165
License
Copyright (c) 2022 Journal of Advances in Military Studies
This work is licensed under a Creative Commons Attribution 4.0 International License.

This work is licensed under a Creative Commons Attribution 4.0 International License.

이 저작물은 크리에이티브 커먼즈 저작자표시 4.0 국제 라이선스에 따라 이용할 수 있습니다.